Our family has been enjoying watching these DVDs from
Drive Thru History®
.
Drive Thru History® – "The Gospels"
chronicles the gospels and follows Jesus from his birth thru his ministry to his death and resurrection. This is a professionally done documentary full of truth that is found in the gospels. I have found the information contained very interesting and inter-woven with history as the life of Christ is chronicled.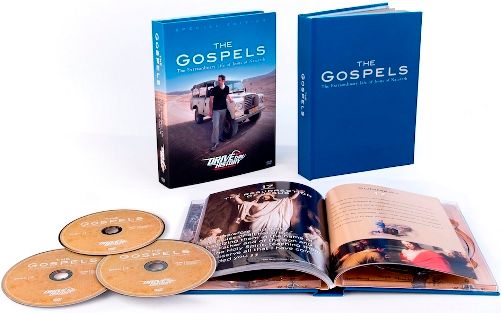 The set included 3 DVDs, each with six episodes. The discs are contained in a holder that looks like a hard back book and then there is a slip cover to keep it all together nicely. Inside the DVD holder is the study guide. You should feel free to use this guide however it would fit your situation.The study guide contains full color photos with a summary of each lesson and a famous quote from that section. There are discussion questions and Bible reading assignments to take your learning even farther. As I was watching the episodes with my family, I really thought how wonderful this would be to use for a Sunday School class.
There are 18 episodes in all in this collection:
The Historical Landscape
The Announcements
Jesus is Born
Jesus Grows Up
Jesus Starts His Ministry
Jesus Returns to Galilee
Jesus Begins His Miracles
Jesus Teaches with Authority
The Sermon on the Mount
Jesus Travels the Sea of Galilee
Jesus Travels North with His Apostles
A Final Trip to Jerusalem
Jesus Arrives in Jerusalem
The Last Supper
The Trial of Jesus
The Crucifixion of Jesus
The Resurrection of Jesus
Who is Jesus?
I have to comment on how impressed I was with these DVDs. The content was very engaging and even though these are technically a documentary, the video presentation is very impressive. We sat in awe at some of the historical site that Dave Stotts walked through as he explained the historical background while setting the stage for viewers as he walked through the same paths that Jesus walked.
We literally just finished studying the book of Luke for our Bible Quiz team this year. This was a perfect tie-in to that. Some of us were quoting portions of scripture right along with Dave Stotts. We also had several "AHA" moments as we actually could see the place where certain events took place in the book of Luke. We were also able to see the places that Jesus walked. This was one very impressive way to be fully engaged in the learning material.
My 17 year old commented how much she enjoyed that
Drive Thru History®
combined three subjects into one: Bible, History, and Geography. THAT says a lot--when you have a high schooler who recognizes the value of the product from an educational perspective. We watched these discs together as a family--ages 11 through 17--plus mom and dad. There was something to learned by everyone. I'm sure the older ones learned more than the younger one, but everyone was interested, and best of all--no groans that it was time to watch!