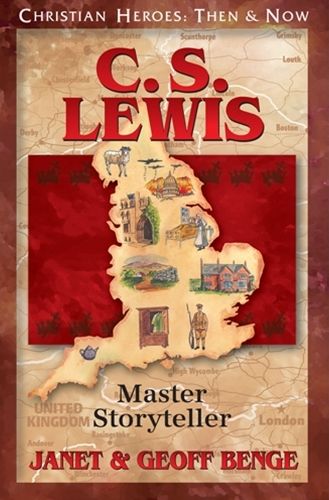 Our language arts curriculum had my son reading and learning all about C.S. Lewis and the children's book series, The Chronicles of Narnia. This book was able to tie in very nicely with that curriculum as a wonderful way to review all that he had learned throughout the year.
Did you know that as a very young boy Clive Staples Lewis insisted that everyone call him Jack? When he was young, his mother was extremely ill so he was raised by a nursemaid. He often retreated to the attic where he imagined and played for hours. At one point the doctors transformed his mother's room into an operating room. She had stomach cancer and needed surgery right away. Thankfully she survived the surgery and regained her strength only to pass away quietly several months later. Jack and his brother Warren were ferried off to England to attend boarding school.
Later in life Jack attended University College in Oxford, but since his country was in the middle of a war, he was soon called to fight for his country where he was injured during a battle. He eventually finished his schooling and won a fellowship at Magdalen College. During his time at this college, he started a group called the "Inklings" where all members could gather and share their poems or other literary works. The group would then encourage and critique each other. Interestingly enough, J.R.R. Tolkien was a member of this elite group of writers.
Another war took place during his lifetime and this was the time that he began writing a great number of essays and novels that he is most known for, The Screwtape Letters being one example. Shortly after this war ended, he began to pen ideas for what would eventually become the Chronicles of Narnia, a series of books written for children, but loved by all, children and adults alike.
We still have a few chapters in the book to finish, but I always appreciate this series, knowing that I can hand it over to my son to finish. There is a surprising amount of information contained in these chapters. I am always amazed at the amount of detail included, yet still allowing the material to be accessible to children. That said, even an adult can enjoy these books. I personally enjoy reading biographical books and this one is no exception.
Let's talk about the study guide for a moment. I received access to the study guide as a digital download. This makes it convenient for me to open up on my computer and print or access just the parts that we wish to use. When you first open the study guide, the introduction screen contains different links that you can click on. For this study, we have the options to learn more about C.S. Lewis, meet the authors, or access the study guide.
The study guide allows you to choose small group or classroom and home. Clicking either of these links opens up an entire guide with instructions on how to use the unit study itself. The guide is broken into sections and gives suggestions for what activities to complete on what weeks. You can easily spread this information out to last for an entire semester if you wanted to work slowly through it.
The unit study is very thorough, and I prefer to look at it on the computer screen instead of printing it all out. You could also choose to print just the part you wish to use. It is set up where you can pick and choose activities. While you could do every suggested activity, I much prefer the pick and choose method. There are 8 sections in the study guide: Key Bible Verses, Display Corner, Chapter Questions, Student Explorations, Community Links, Social Studies, Related Themes to Explore, Culminating Event, as well as Appendix items including answers to questions, reproducible pages, and additional book and resource suggestions. These are very thorough unit studies and you should feel free to complete what portions you want.
Curious what other reviewers had to say about this product? Head on over to the Homeschool Review Crew blog to read all the reviews.