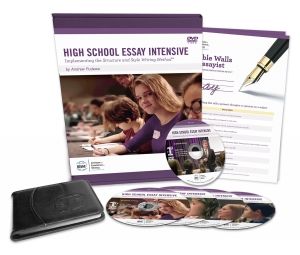 It's no secret that I really do adore any curriculum from Institute for Excellence in Writing. SO when the chance came to review the NEW and updated High School Essay Intensive you better believe that I was first in line to receive this amazing product! For this review, we gathered some friends to watch the seminar with us. Hard things are always more fun when friends can be involved.
Several years ago my oldest daughter and I attended a live High School Essay Intensive live seminar conducted by Andrew Pudewa. I was so inspired and awed by this teaching method, that I knew I had to get my hands on that seminar on DVD to teach to my English classes. And that's just what I did. I got my hands on the DVD seminar and hosted my own High School Essay Intensive in my home with the students watching the seminar and working along with it. The product was great as it was. BUT some updates and changes to the essay portion of the SAT kind of forced IEW to update the seminar to include new and improved essay tips in order for students to possess the skills to be successful in these kinds of essay situations.
Fast forward to the brand new and updated version of the
High School Essay Intensive
. When I first received the product, I was super duper impressed with the presentation. The discs arrived in a nice box as you can see pictured above. The discs are housed in a leather folio. Also included is a new product that I have come to enjoy called the Portable Walls for the Essayist. My kids have always used the original Portable Walls in their writing lessons, so I am glad to have access to this new portable wall designed specifically for writing essays. It is full of essay models and several helpful tools available at the student's fingertips. A copy of the seminar notes was also included.
There are 5 DVDs in the set, which includes 6.5 hours of live teaching recorded before a live audience. Essay prompts and note taking outlines are included for each session. Along with the DVDs, I received information so that I was able gain access to the streaming version of the videos. That is very convenient for learning on the go.
You can choose to use the course over the period of one semester, or do as I have always done and treat this as a true intensive--meet with your students for an extended period of time and complete the intensive in one 6.5 hour session (this is how Andrew Pudewa does it in his live sessions) or spread it out over several sessions in one week. I met with my students for 3 days in the same week--meeting for 2.5 hours each day in order to cover the material. If you ever have the chance to go to an actual High School Essay Intensive live, I highly recommend it. My daughter still talks about that unannounced timed essay given right at the beginning of the session. The DVD is no different.
Let's talk about the timed essay. I'm telling you so you know what to expect, but please don't ruin the element of surprise for your students. It truly is a great way to understand the value of taking the course. Right at the beginning of the seminar, the students are instructed to get out a sheet of paper. They are then instructed to choose one of two prompts to write about. The instructor is prompted to pause the DVD and set a timer for 20 minutes. Students are to then write a complete essay defending their position in their given prompt. This all happens literally before any essay instruction is actually given. Every time I teach this to a group of students, they are all so anxious, but they quickly realize that they need some skills and tips in order to survive. Only after the students have suffered through the agonizing 20 minutes do they truly appreciate the instruction received in the rest of the seminar.
There is just enough humor and wit injected into the teaching that keeps students somewhat entertained. I appreciate (from the perspective of a parent) that the teaching also includes practical instruction on being successful in life in general.
And I do realize that I have said quite a bit already about the value of these discs, but I especially want to add that the information about how to "win" at the "game" of the timed essay writing tests is absolutely invaluable. If you have a student determined to pass the writing portion of the ACT or SAT, they will especially find these discs helpful. While the first part of the discs are largely general essay writing strategies, which would essentially be an excellent review for students who have had sufficient training in the IEW methodology, the two discs about the SAT and ACT timed essay writing will shed some new light on these two tests. The information includes a thorough description of how these tests are graded as well as practical tips for obtaining a passing grade. The presenter walks students through an example essay for each test. I will definitely have my students review just those parts a few times so they fully understand the requirements before taking the test.
The High School Essay Intensive
, which includes all of the items I've previously described, can be purchased on the IEW website for $79. Additional student materials can be purchased for $10. IEW generously allows you to make copies of the student materials for your own family. I love that policy that they have. It is very generous of the company, and I believe it is a blessing to many homeschool families as well.
Curious what other reviewers had to say about this product? Head on over to the Homeschool Review Crew blog to read all the reviews.