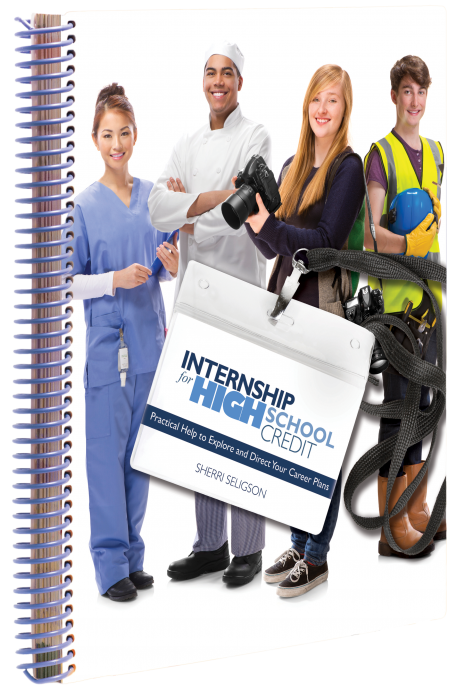 This month we were blessed to review
Internship for High School Credit
by
Apologia Educational Ministries
. This has been something that I have considered for my high school students, but just couldn't get a logical order or find clear direction for putting together my own program. So really this came at a perfect time for me.
The entire spiral bound volume is self-contained and written to the student and the parent. The student could work through it all alone, but I really think it would be most effective if the parent had read the important parts and would know what all is going on behind the scenes. Let the student be independent, but be aware what is going on.
The introduction explains in thorough detail what an internship is and what the benefit of participating in one would be to the student. This is an excellent way for a teen to get in some career exploration. And the fact that you can assign credit for doing that is an added benefit.
Part 1 in the workbook includes all the nitty, gritty details that your student needs to consider before plunging head first into an internship. Things such as: determining what type of internship would work for your teen, choosing which company to work with, writing a resume, writing a letter of introduction, and surviving an interview. There are even sample letters and student resumes for you to preview and get an idea of what yours should look like. Of course each letter or resume will be personalized to the student, but it gives an idea of the level of professionalism expected.
Part 2 in the workbook is information for the parents. As a parent, this is the section that would be really important for you to pay attention to. It wouldn't hurt for your teen to read this section as well because they would also then understand things like: child labor laws, transcripts and documentation, and how their grade will be evaluated for their transcript.
Part 3 walks the student through the first semester. Students set goals and keep track of their hours worked as well as their effort on the weekly worksheets. Students participate in self-evaluation to identify and think about activities that are taking place in the area they are assigned. I appreciate that these questions really require active observation skills and thoughtful evaluation. No fluff and stuff here. The documentation of these answers also shows their motivation to continue in this field or to decide whether they should consider a different internship for the second semester. Sprinkled throughout the worksheets are tips and suggestions for success.
Part 4 delves into the second semester of the same internship. Of course students can choose a different internship if they wish, but there is great benefit to staying in one place for an entire year. The second semester focuses on different activities for the student to accomplish in their chosen workplace environment.
Part 5 concludes the course with a course wrap-up. Students are instructed to write a thank you note and includes a sample thank you note. I appreciate that the students don't have to think of this from scratch. They can follow a template and personalize it to match their own personality and experience. Students are also instructed to seek a letter of recommendation from their internship employer and to update their resume. It's all really very professional and builds job skills that can't be taught in any way other than through experience.