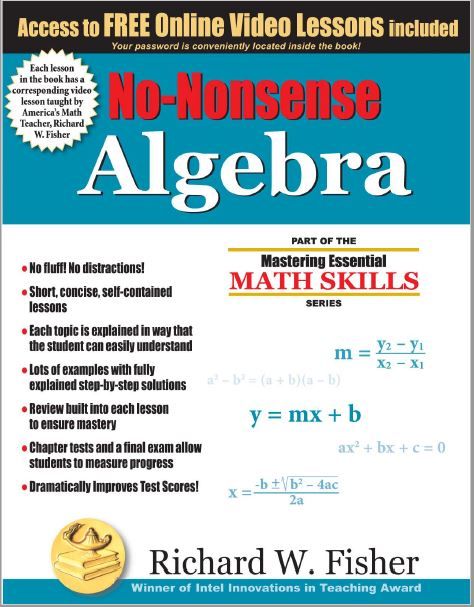 I have been very impressed with this new to us math program by Math Essentials called
No-Nonsense Algebra
. I'm not going to go into great detail here with our love/hate relationship with math. But this is one program that I think I can finally get behind because it truly is no-nonsense.
The cover of the book as seen in the graphic above says there is no fluff and no distractions. And that is very true. The pages are black and white. There are no graphics unless necessary for explanation. No cute cartoons. Just the instructions, examples, and exercises. This works well for students, like my 14 year old, who simply want to know the information, process it, and then finish the lesson.
The lessons are not long and drawn out with zillions of practice problems. Don't worry, there are plenty of practice and review problems, just not zillions. My 14 year old is usually pretty quick at grasping new math concepts. She has not studied Algebra yet, and so far this is going at an excellent pace for her and will continue to be used for math credit during her freshman year. She isn't overwhelmed with lots of options. One skill is taught at a time. That skill will also be reviewed in subsequent lessons.
The book is broken down into 10 chapters. Each chapter is broken into individual lessons. Each lesson also has a video for the student to watch. The videos are not long and drawn out. I find they are concise enough to teach the new concept to the student. The key is that the student follows along with the video. As the example problem is worked in the video, the student should also work the example problem right along with the instructor. Once the video is over, the student turns to the book. I have my 14 year old read the introduction, which actually reviews what she learned in the video. I do not have her work the example problems unless she really is having a hard time with the concept. I then assign her the exercise and review problems in the lesson.
The answer key is in the back of the book, so when she is finished with the problems, I have her check her work and make any corrections or find her mistakes. This is a powerful activity and really helps her to see what she did wrong or figure out why the problem was wrong. She can see what needs to be fixed or done differently and easily fixes the mistake. Each chapter also includes a chapter review that could also be used as a test.
Chapter 1: Necessary Tools for Algebra--Review of Pre-Algebra (22 lessons)
Chapter 2: Solving Equations (9 lessons)
Chapter 3: Graphing and Analyzing Lines (6 lessons)
Chapter 4: Solving and Graphing Inequalities (7 lessons)
Chapter 5: Systems of Linear Equations (4 lessons)
Chapter 6: Polynomials (13 lessons)
Chapter 7: Rational Expressions--Algebraic Fractions (10 lessons)
Chapter 8: Radical Expressions and Geometry (10 lessons)
Chapter 9: Quadratic Equations (6 lessons)
Chapter 10: Algebra Word Problems (8 lessons)
The back of the book includes additional helpful formulas and symbols as well as a multiplication table, commonly used prime numbers, squares and square roots, fraction/decimal equivalents, and a glossary. These are all helpful tools to a student new to Algebra and ones that I find myself reaching for often as I help my high school students with higher level math. It is challenging, but not impossible. Maybe after I have helped all 4 of them get through Algebra, I will finally understand it!
Curious what other reviewers had to say about this product? Head on over to the Homeschool Review Crew blog to read all the reviews.